Hey Beauties! Welcome back to Makeup Monday here with Maria and I.
Thank you all who linked up your posts last week.
I don't know about you but I found some *NEW* blogs to stalk.
I loved Mindy's post... you can check her out
here
.
Thank you for stepping out of your comfort zone and doing a beauty post and having fun with it.
That is what this is all about right?
Having fun and learning and meeting new people.
For all of you newbies and just checking in...
Makeup Monday is a fun link up to share your inner Glamazon.
We want to hear about your beauty secrets, shopping sprees, tutorials or beauty "Look of the Day."
The nitty gritty, the secrets of the trade, sharing ideas and making friends.
Everyone is welcome here.
There will be
giveaways
,
challenges
...and a chance for your blog post to be
featured
.
So grab a button...add it to your blog or post and join the fun.
Feel free to Tweet this too...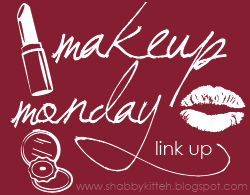 *******************************************************
Maybelline Color Whispers Vs. Revlon Lip Butter
By now I am sure most of you have heard of Revlon Lip Butters..Yes?
They have been around since Spring I believe...don't quote me. But it has been a while.
I own a few in my collection and I have to say...I really love them.
Maybelline JUST came out with a similar product. The Color Whisper collection.
Maybelline and Revlon are my favorite drug store brands.
So having them in competition with VERY similar items is no surprise.
Because..they must have known there are suckers out there like myself who will buy both.
And I did.
The cost ($7-8) difference is not much...some ashtray change at most.
Course with all the drug store sales like BOGO
and 50% off you can come by both these brands fairly cheap.
I found my Whispers at CVS...not yet on sale, they were $7.59 each.
Thankfully I had $12 in CVS beauty rewards (join this if you haven't already) saved
to help towards my splurge.
Lets discuss the two...
Packaging: The Whisper tube is slimmer and longer then the Lip Butter. The packaging is beautiful on the Whisper, reminds me of the Colorsensational Lipstick tubes. The lids are all clear and tinted to match the color of the balm inside. Where as the Lip Butter packaging is quilted and adorable. The only thing I wish Maybelline would have done to the packaging is put a color sticker on the bottom.
They only have the name and number. *boo*

Color Payoff/Consistency: Maybe it is just the ones that I picked up, but the color payoff is not as pigmented when worn as the Lip Butters. They swatch nice but once applied it is a faint color. For the bolder colors, Relvon does seem to have better pigmentation. The lighter colors are pretty much a match for each other. They pay out the same. The consistency is pretty close to each other. I do find the Lip Butters to be a bit thicker, to where the Whispers are a little lighter. They both have a chap stick feel. Not sticky. Which I like.
Color Selection: Revlon wins this area. Maybelline didn't have that many different colors to chose from. Yes they have 20 colors, but 4/5 were in the same color family...only a slight difference that probably wouldn't make much of a difference on.
similar colors

Longevity: They are equal to each other. Both last the average 2 hours on me. The Revlon Lip Butters tend to leave more of a stain behind once they are gone.
Verdict: I am slightly disappointed in the Color Whispers as far as color selection and payoff. I DO like the formula and packaging. The colors I picked up I will get good use out of during the summer when I don't wear heavy lip color. But we are still in Winter...and these lips want color. Maybe I will go back and try a "darker" color and see if that works better. Maybe not worth purchasing the whole collection. My verdict is B+
********************************************************************************************
Before I go...I wanted to announce our first Makeup Monday Challenge...
YES...Challenge.
We are giving you TWO weeks to work on....
My Husband/Boyfriend/Brother does my makeup.
I know you are thinking...whaaaa is this chick cray!?! Men are clueless...but are they really?
It is going to be fun seeing their "perspective" of makeup.
So Maria and I challenge you to play with your Husbands/Brothers/Boyfriends.
Better yet make a fun date night out of it...dinner and war paint. YES?
So work on this challenge if you choose. Tell a friend...
and come back on Janurary 21st for Makeup Monday.
We also have our FIRST GIVEAWAY!
After all that exciting information I hope you are ready to Link up
Please be kind and visit/comment one or two (or more) other links.
This link up is for makeup/beauty related posts only!
If you do not have a blog, but showcase beauty elsewhere like instagram or flicker,
you are still welcome to link up as well, please just link to a specific photo, though, not your whole account! :)

1. Link to a specific Blog Post, not your entire blog
If you do not have a blog, feel free to link to an instagram or flicker photo!
2. Please grab a button or link back to Andrea or I
3.* Follow Agape Love Designs & Shabby Kitteh
4.* Tweet about this linky using hashtag #MakeupMonday
Tag @mariagridley & @shabbykitteh
*Not Mandatory but appreciated